360 east wedding photographers
How to Cope if it rain on your wedding day
What are we going to do if it rains on our wedding day? "It's a question I get asked sometimes as a wedding photographer. But if my clients don't ask me, I'll make sure I ask them – because I live in Britain, so there's absolutely no point in assuming anything about the weather.


Anna and I were married in August, which, as you know, is the new height of the rainy season in the United Kingdom. In December, you might get a light shower of pretty white snow, in October, you're going to leave the wedding ceremony to meet the beautiful golden leaves drifting down on a gentle autumn breeze, and in the spring, your wedding day might be graced with the unique beauty of the trees in bloom. But if it rains in August, then you and all your wedding guests will be drenched to the bones as thunder and lightning roll overhead, and the floodwater will carry your cake table down the river. Not really, really. But that's how my mind worked at the time. I clearly remember being frightened by the flood of our marquee.

It didn't seem to matter how many times a minute I reloaded the weather app on my phone; it didn't change anything. Destinies had decreed that we should have had a good downpour on that Saturday in August. I started researching weddington boots and I made sure we had a good stock of white parasols. And a canoe, too. A white man. Just in case of it.

The rain had arrived, but the timing was perfect. We were all safe and sound in the marquee when the heavens opened, listening to the speeches. The drumming of summer rain on the roof of the marquee pretty much drowned out my Best Men's speech, which was really for the best. By the time the speeches and toasts had ended, the rain had moved on, leaving us free to play the impromptu game of cricket.

Rain really doesn't have to ruin the day of your wedding. I've been to a lot of weddings where it rained, and believe that the weather never completely overshadowed the day. Actually, some of my favorite weddings were a little damp around the edges. Sometimes the plans have to be adjusted, but as long as you and your photographer are happy to roll with it, everything's going to be fine. But if you're really worried, here are five top tips to keep in mind.


Choosing a venue Along with many other criteria, it's worth considering what's going to happen if it rains on your wedding day when you choose your location. Yes, you would love an outdoor ceremony; but if the monsoon arrives, will you be just as happy with the alternative indoor option?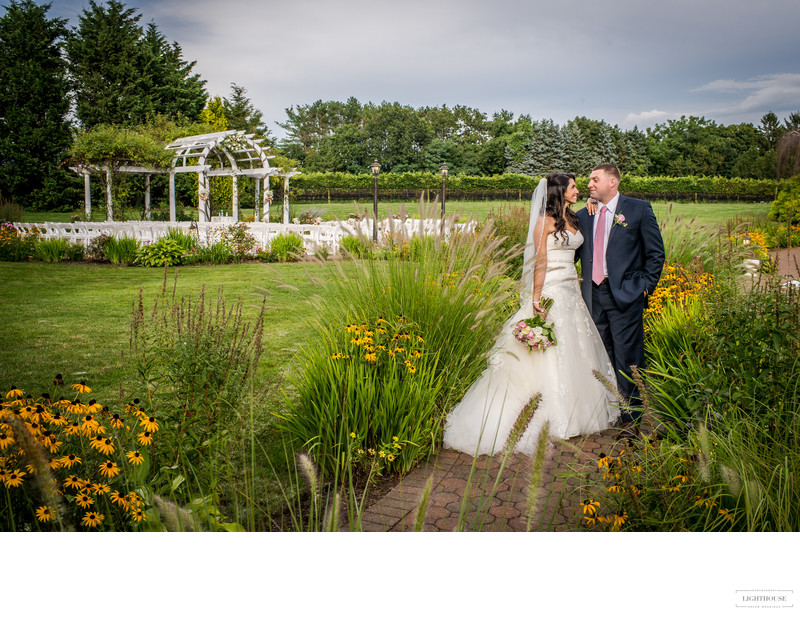 The vineyards at Aquebogue


It pays to be flexible Weddings revolve around people, and they can be quite unpredictable just like the weather. So even if the forecast looks sunny, you're probably going to have to be a bit flexible with the timing and order of the day.

If the ceremony is over and it's raining, then maybe your photographer can take some indoor portraits of you now and take a big group photo of everyone in half an hour.
Hair and Makeup My knowledge does not extend to hair and makeup, but fortunately I was in touch with one of the best makeup artists in the world – Sheelagh Powell – and asked her what advice she could give. Here are her carefully considered wedding pearls of wisdom!

My top five makeup tips to keep your wedding day makeup in place on a rainy day!

Always use a makeup primer under your foundation, this will help to soften your skin and keep your makeup in place all day. I love the primer of Arbonne's face; it works great on all skin types.
Use an invisible setting powder to fix your foundation, make your skin look better and keep any shiny areas at bay! My favorite one is the MAC Pro Invisible Powder.
Use a waterproof mask. It's an absolute must! Even if the rain doesn't give you an odd emotional tear, you might ... set up your makeup with a fixing / set spray. This is going to make sure your makeup doesn't budge all day, no need for top-ups! I love the 'Model in a Bottle' spray fixing. It smells great, and it sets your makeup to perfection.
If everything else fails ...... carry the umbrella! This will add to your wedding styling and can contribute to some wonderful photos!


Choose Your Photographer Carefully Just as with the choice of location, make the right decision about your photographer, and you'll have wedding photos to treasure whatever the weather. This is where the Perfect Wedding Photographer can help! Get in touch with a few photographers, don't just book the first one you can see. Arrange an initial meeting and make sure one of your questions is, "What are you going to do if it rains? "Dress Appropriately & Do It Anyhow!
As the saying goes: there's no such thing as bad weather, just bad clothing. Don't get me wrong, I'm not suggesting that you should invest in a white plastic poncho or a lace hood! But a change of shoes might mean that you can still get out with a nice white parasol (I always take one or two to a wedding, just in case) and still get the shots you've dreamed of. Actually, the rain can add to the drama of a photograph. But be warned, your clothes are probably going to get a little wet!

Your wedding is going to be a day to remember whatever the heavens are throwing at you. As long as you've got the right mind and the right photographer, there's no reason why you're still not going to get some amazing photos to remember it all!






DO YOU HAVE ANY QUESTIONS?