Long Island Wedding Photographers Tips for a Vineyard Wedding
Wedding photographers share their best advice for getting photos you love at your vineyard wedding.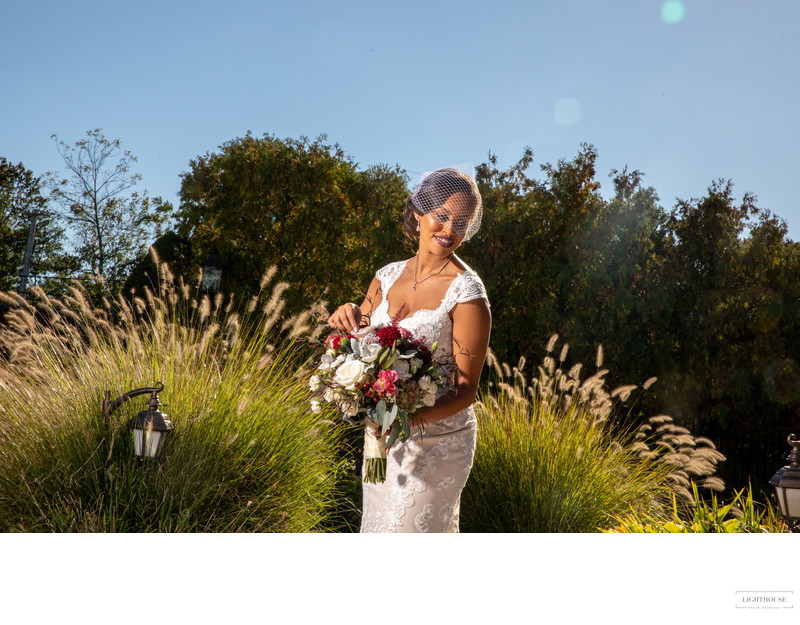 Planning a vineyard wedding on the North Fork?
Congratulations! This spot is home to some of the prettiest Long Island vineyards, and it's a favorite destination for Long Island wedding photographers searching for beautiful places to take photos.
You're going to love having your dream wedding here, and you'll be thrilled with the beautiful images your photographers capture! But if you want to get the best possible photos from your vineyard wedding, keep these five tips in mind.
Long Island wedding photographers' tips for vineyard wedding photos
1. Keep the time of year in mind.
Vineyards on Long Island, especially the many Nork Fork vineyards, are beautiful any time of year. But whether you're there in the spring or summer will affect whether you can get those iconic vineyard photos set against a backdrop of green vines.
Time of year also affects harvesting. Because grapes are so delicate, when the vineyard managers sees that it's time for harvesting, it needs to happen right away — trucks, workers, and all.
You'll need to keep these factors in mind when planning where and when to take your vineyard photos. Depending on the vision you have in mind for your wedding photos, you may also want to designate some backup locations in the area where you can go for a quick photoshoot.
2. Wear shoes you can walk in.
If you want to go for a wander among the vines, you'll be walking on the bare ground: grass, dirt, mud, and all. You might not want to make that trek in your wedding shoes!
We suggest either bringing a back up pair of shoes for walking around in, then changing into your wedding shoes for the photos, or choosing a pair of flat shoes to wear all day.
3. Have a place to cool down (or warm up).
If you're getting married in the summer, that lush backdrop of vines, flower, and other natural beauty will also come with heat and humidity (though less on Long Island than in some other places!) To avoid photos filled with red, sweaty faces, take a break in between photo sessions to go inside, have a drink, and cool down.
And if your wedding is in the winter, you might need the same arrangement, just with an indoor space where you can go to warm up!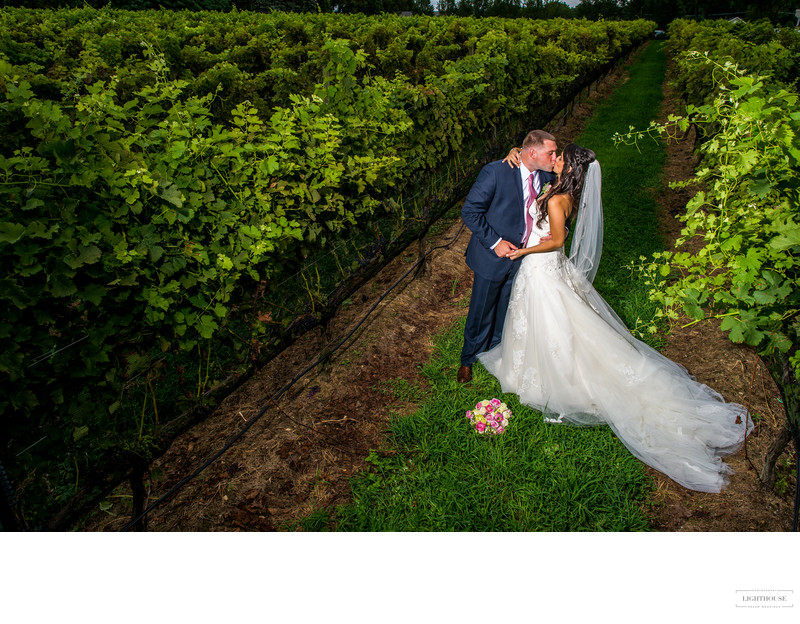 4. Limit drinking before photos.
Another thing that can cause pink or sweaty faces, especially in the warmer months? Drinking.
Most couples who plan a vineyard wedding want to take advantage of the excellent local wine. And Long Island's wine country provides plenty of options! However, to keep your photos looking more polished, plan to limit your drinking (and as your family members or wedding party to do the same) until after your portrait sessions are done.
5. Scout out photo locations beforehand.
While the fields of vines are the obvious, and iconic, place for a vineyard photo shoot, be sure to look around or ask the owners (or your Long Island wedding photographers!) about other lovely spots that you might miss.
Some vineyards in the North Fork have fields of flowers, rustic old buildings, attached farmland, horse pastures, or beautiful cellars. And you're welcome to take photos there! Take time before your wedding day to come up with a list of spots you want to visit, along with which group (wedding party, extended family, or just the newlyweds) you'd like photographed in each.
Ask your Long Island wedding photographer
Want to make sure you've checked everything off the planning list before your vineyard wedding? Ask your Long Island wedding photographer if there's anything you're missing!
In addition to advice on how to get the best vineyard wedding photos, local wedding photographers often have the inside scoop on the quirks of many local vineyards.
And if you're planning that wedding at a vineyard on the North Fork, be sure to browse our list of the favorite North Fork photo spots of Long Island wedding photographers before you plan your day!
DO YOU HAVE ANY QUESTIONS?