Wedding timelines on Long Island weddings
You booked you date and you know exactly where the wedding will take place and when.
You got the date and place. It's now time to book your wedding photographer and videographer, your band/DJ, flower, dress, hair and make up and so much more.
Shopping around and meeting all these vendors raises additional questions.
When does the hair needs to be done, when does the make up needs to be ready and who should be done first?
How about your first look and photo session? When should you set up the ceremony?
When are the family photos getting done? How and when are you going to get your ballroom shot, when should the limo be ready or dismissed?
Questions on top of questions?
It's very difficult to answer a question when it leads to another one or multiple other questions.
Well is a wedding planner needed? Perhaps, but the same questions will arise. In the end all the questions lead to your wedding photographer.
Being wedding photographers on Long Island for such a long time we have seen it all. We are willing to help.
Below are the basic guidelines of a wedding day timeline.
Getting ready wedding photos.
Booking your hair and makeup team will immediately raise the question of what time everything needs to be ready?
Should you have hair and make up done first? Or should you be done last and the bridesmaids done first?
Your wedding day is about the bride so we truly believe everyone should get ready first and allow the bride the time to rest before hand.
The bride's hair and make up should be done last.
Our team of wedding photographers usually likes to spend a good hour and a half with the bride before heading for the next step of the wedding. The next step would be a ceremony or a first look. Sometimes the first look is at the same location as the getting ready photos and sometimes there is traveling needed, The hour and a half needed for the getting ready in case of travel needed does not include the travel time. Fox example if you first look will be set for 2pm and you will be leaving the getting ready location by 1 pm (usually these times are discussed with your transportation company) we would need to start your getting ready session by 1:30am.That mean our team will show up at that time and we usually want you to have hair and make up done or just about done but do not be dressed. We usually get started with your details: wedding dress, shoes, jewelry, flowers, perhaps a copy of your wedding invitation etc. We also like taking candid photos of your interactions with your wedding party, you mother, maybe be a first look with dad. We then go ahead taking photos of the ending of you bustling the wedding dress and putting on the shoes. Bridal wedding portraits are absolutely mandatory to follow. This is where you can communicate some of your personal vision . Some brides like close up with a soft look which we usually create using a beautiful window light. Some brides like rather silhouette photos or clear shots of the back of the dress. Don't be shy in letting us know your vision.
So in conclusion we need minimum an hour and half for the getting ready photos.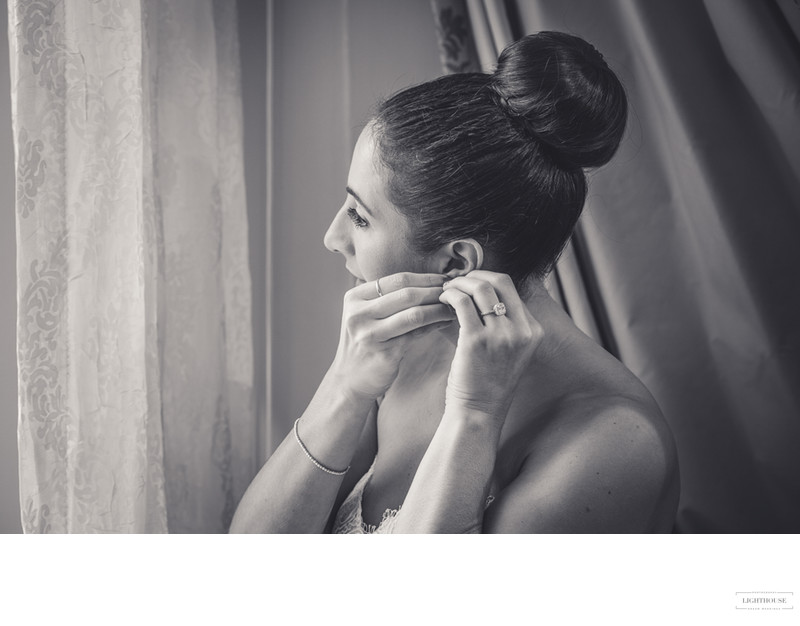 Church wedding ceremony
The most traditional approach of a wedding day is having a religious ceremony. Your vision does not have to be entirely traditional when it come to your wedding. You might like a photojournalistic natural approach to photos but always wanted to have a church ceremony. You always thought of that moment... walking down the aisle. We completely understand and we are ready to share your vision. We always like capturing the moment your have arrived at the church, the moment you get out of your car and most importantly the moment you will walk down the aisle. Your soulmate reaction is as important as that wonderful walk down the aisle, The second photographer is always focused on that moment. As the ceremony unfolds we always like to capture all the key moments, the parents reaction thought it and all the guests attending. The first kiss is one of the key wedding moments. It is the first kiss as a married couple. Recessional is to follow and that presents an opportunity for another kiss. We usually like to take shots of everyone attending the ceremony and the couple unless time does not allow for it.